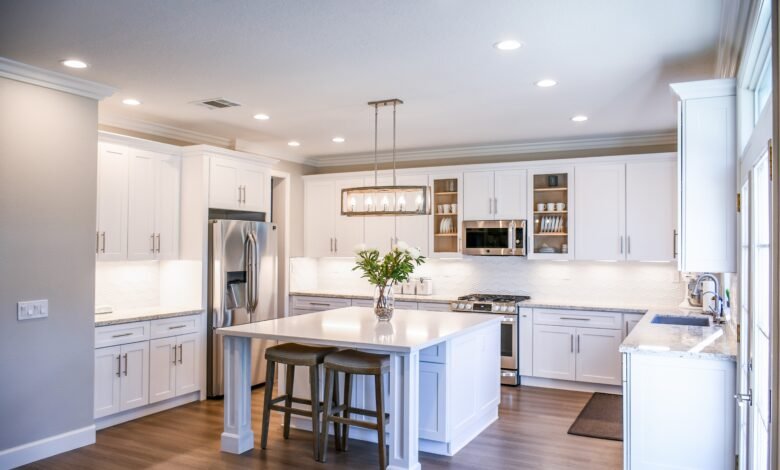 If designed incorrectly, you can create congestion in your kitchen. Kitchen remodeling can boost your kitchen's aesthetics and usability, improving your home's overall value. It can improve the interaction and movement of people throughout the space, enhancing function and flow.
Here are pro tips on renovation mistakes to avoid when remodeling your kitchen: 
1. Underestimating Your Makeover Budget
A fruitful kitchen makeover requires vision and objectives. A budget and a plan can streamline your goals and vision. It informs you of the figures needed for a successful process. Determine your budget upfront to guide your finances.
Arrange your budget based on the required kitchen features and assign your funds accordingly. Refer to your makeover budget as you work to stay on track with funding.
2. Emphasizing Aesthetics Over Function
Homeowners desire an appealing outcome after kitchen remodeling. Emphasizing more on looks rather than functionality can limit the kitchen's optimal use. Orient your kitchen remodeling around work zones. Position your refrigerator, cooktops, and counters close for a more functional food prep zone. Incorporate your desired designs to balance your kitchen plot.
Consider how kitchen appliances, cabinets, and cupboards open. A design slipup may limit your use of different kitchen zones at the same time. You should be able to open your oven or fridge and a nearby cabinet simultaneously without anything blocking the other.
3. Forgetting Your Kitchen Inventory
Create an inventory of the kitchen's features to understand your remodeling needs. Determine whether you need new appliances and countertops. Evaluate your kitchen's current traffic and floor layout for efficiency when renovating.
Complete an accurate and thorough inventory early to guide your makeover team around the functionality and space in your kitchen. A checklist can help you avoid spending money on unnecessary features. It integrates the household's lifestyle into the remodeling for custom results with optimal utility.
4. Not Considering Your Cooking Style
Your cooking style will shape how you use the kitchen space whether you host big dinner parties or want a more intimate dining setup. Examine your kitchen and determine the everyday errands it accomplishes. Choose your household's most used appliances, spaces, and utensils.
Think about the foods your family regularly cooks. For seafood lovers, a countertop condiment refrigerator may be necessary for the makeover design. Decide on your commonly used appliances for a plan that facilitates easy storage and cleaning.
5. Forgetting Other Household Spaces
It's natural to focus on kitchen remodeling and separate it from other rooms. Many forget to envision the impact of a makeover on spaces beyond the kitchen. Don't restrict the vision to the kitchen only. Decide how your kitchen remodeling fits with other rooms in your house.
The new design should complement the esthetic harmony of adjacent spaces. Consider your ceiling changes, flooring, fixtures, and kitchen hardware. Pick colors and styles that work with the other rooms in your home.
6. Providing Insufficient Electrical Elements
Your kitchen appliances require power to function and streamline your food preparation. Plan for your power channels on the kitchen's perimeter. Consider multiple power outlets if you include an island in your new design. Consult your kitchen remodeling team to hide extra outlets throughout the space.
7. Overlooking Quality Lighting
Sufficient illumination optimizes traffic flow and food preparation. You can opt for overhead, operational, or accent lighting. Overhead lighting can illuminate your kitchen with gentle brightness and make it warmer. Ceiling-mounted, recessed fixtures, valance lighting, and over-table chandeliers can help you achieve proper illumination.
Operational lighting offers focused light in specific areas like cooktops and workstations to aid cooking or eating. Your operational lighting should be brighter than the overhead lighting and concentrated on the activity. Use under-cabinet lights and island chandeliers to apply your task lighting.
Use accent or decorative lighting to heighten aesthetics or emphasize your kitchen's style. The lighting creates visual interest points and adds more drama to areas in your kitchen. Use them to highlight your wall art, architectural elements, and other kitchen features.
Start Your Kitchen Remodeling Process Today
Kitchen remodels can improve your home's comfort, appeal, functionality, and property value. Avoiding these seven mistakes and working with kitchen remodeling experts can help you attain fruitful outcomes. Set a budget and consider your lighting, style, and other elements to get your dream kitchen. Contact a kitchen remodeling expert to guide you through the process.