HEALTH
A Detailed Comparison between Massage Chairs and Traditional Massage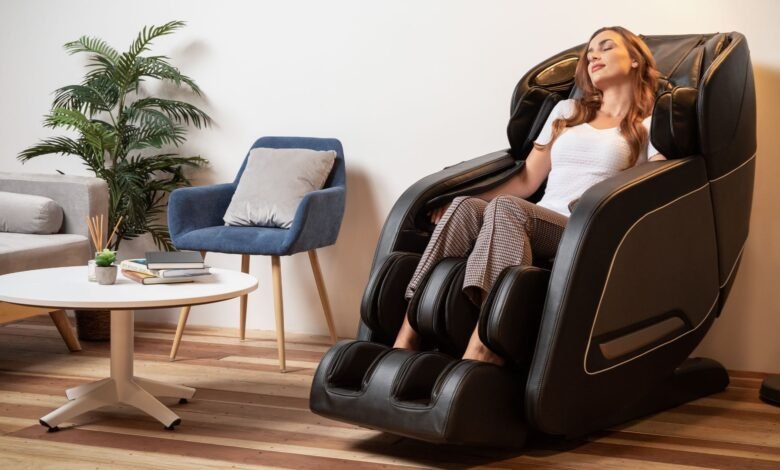 Massage chairs and traditional massage are common massage methods that have the effect of quickly and effectively relieving pain and providing relaxation to individuals. However, these two massage methods have many differences, resulting in different outcomes. Let's explore them in the following article.
1. Exploring Traditional Massage and Massage Chair
What is Traditional Massage?
Traditional or folk massage includes various massage techniques that use the force of the hands, knees, or feet of the practitioner to apply pressure on soft tissues, muscles, and acupressure points of different body parts such as the back, neck, and feet. This aims to help the recipient reduce pain and get effective mental relaxation.
Traditional Massage is a completely manual method using human strength through the skilled hands of trained technicians to perform massage techniques on the human body.
What is a Massage Chair?
A massage chair is a device designed in the shape of a regular chair, but with a higher and larger backrest to allow users to comfortably lie down and relax. The massage chair is capable of simulating authentic movements and massage techniques like human hands through the use of flexible rolling systems and full-body airbag systems.
All massage movements and techniques are performed automatically through pre-programmed settings. Users only need to press the button to choose their favorite massage program, and the chair will perform the massage according to their preferences.
A Massage Chair is a healthcare support device which utilizes modern technologies and intelligent features to provide health care benefits for users.
Moreover, modern massage chairs are integrated with various intelligent technologies such as automatic acupressure detection, zero-gravity massage, stretching massage, infrared heating, and so on. These features not only enhance the effectiveness of the massage but also provide optimal convenience for users.
The massage chair can deeply stimulate acupressure points on the body, thereby effectively assisting in the treatment of bone and joint-related conditions and reducing muscle pain. It brings users comfort and various other health benefits. Therefore, using a massage chair is a modern massage method chosen by many people nowadays.
2. Comparing between Massage Chair and Traditional Massage
Below are some basic similarities and differences between the Massage Chair and Traditional Massage:
The similarities:
Massage operation method: Both the massage chair and traditional massage mechanically target the meridians and pain points in different parts of the body, which have the effect of reducing pain and discomfort for individuals.
The effect of reducing pain and fatigue: Thanks to the massage's kneading, rolling, squeezing, and tapping actions on the whole body, it stimulates blood circulation. These actions also help increase the sense of excitement, happiness, and comfort for the users, relieving all tiredness and fatigue. As a result, you can improve sleep quality and enhance mental health.
Support relaxation, reduce stress, and provide entertainment: In addition to gentle and smooth massage techniques, the use of massage also helps you relax through conversations and sharing with traditional massage experts or modern entertainment features integrated into massage chairs.
In summary, both traditional massage and massage chairs have similar operating methods, helping to reduce pain and fatigue, as well as supporting relaxation, relieving stress, and providing entertainment for users.
The differences:
| | | |
| --- | --- | --- |
| Criteria | Massage Chair | Traditional Massage |
| Targeted users | Those who need a full body massage, have bone and muscle problems. | Those who occasionally experience mild aches and pains. |
| Operating principle | Utilizing modern massage technologies to deeply target acupuncture points on the body. | Using the force of hands, knees, or feet to apply pressure on soft tissues, muscles, and acupressure points of different body parts. |
| Massage Positions | Massage the whole body | Only massage specific body parts |
| Technology | Using many technologies such as rollers, airbags, automatic acupressure detection, zero-gravity massage, stretching massage, infrared heating, etc. | Nothing |
| Add-ons | Bluetooth connectivity, touch screen control, voice control, automatic wall back sensor, etc. | Nothing |
| Flexibility | High | Low |
| Advantages | Simple, easy to perform, and suitable for many individuals.Cost-effective.Not dependent on any specific equipment. | Bluetooth connectivity, touchscreen control, voice control, automatic wall back sensor, etc. |
| Disadvantages | The massage chair incorporates various modern technologies, allowing it to automatically analyze and adjust the massage mode to suit the user, providing a highly effective massage experience.It is equipped with multiple massage functions, giving users the flexibility to choose a program that meets their specific needs. With its modern design, the massage chair also adds a touch of elegance to the living space. | Relying heavily on the massage therapist's techniques. Taking a lot of time, and the effects may be slow to show. Only targeting specific areas for massage. |
| Price | From 20 to 500 million VND depending on the type of massage chairs. | No cost much. |
A Massage Chair has many advantages, especially bringing various health benefits for users.
3. Should we use the Massage Chair or Traditional Massage?
Choosing between Massage Chair and Traditional Massage depends on the user's needs and financial capability:
If you have mild issues with musculoskeletal problems such as back, neck, shoulder pain, etc., and do not want to invest much in massage, you can choose the traditional massage.
If you frequently experience pain and have higher-level musculoskeletal issues with stable financial conditions, you should consider investing in a massage chair for effective therapeutic support.
And if you are interested in the massage chair, you can consider Maxcare – a leading Japanese massage chair brand. You can visit a variety of high-quality massage chairs at https://maxcare.com.vn/ghe-massage/ to choose the best product in order to support in treating muscle and joint pain as well as improve your health effectively.
The Massage Chair is an ideal choice for those who have high-level musculoskeletal issues and frequently experience pain.
That is the comparison between Massage Chairs and Traditional Massage. I hope this article helps you make a suitable choice for yourself. If you have any questions or want to quickly own a high-quality Maxcare massage chair to improve your health, please contact us at (+84) 0989 255 355.